Plant factories and EC energy-saving fans: innovative applications under the green revolution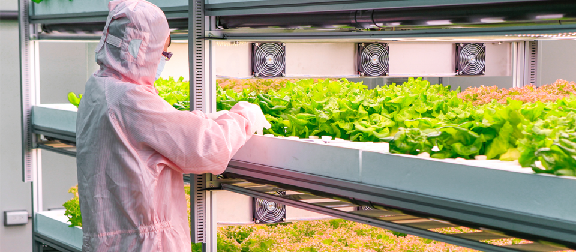 Advantages of Plant Factories
1. Water Saving by 95%: Compared to traditional farms, water usage is reduced by 95%.
2. Ready-to-Eat and Pesticide-Free: No pesticide residues, heavy metal pollution, and low microbial counts. The produce can be consumed without washing.
3. Hundredfold Yield: Achieves 100 times higher crop yield per unit of land area than traditional methods.
4. Year-round Production: Not limited by weather or geographical conditions, allowing production throughout the year.
5. Increased Profitability: Gross profit margin can reach double digits, especially for high-value crops like medicinal herbs.
Plant factories refer to cultivation facilities that control the growth environment of plants (light, environment, humidity, carbon dioxide concentration, nutrients, water, etc.), observe the growth environment and development conditions of plants, and use advanced environmental control and growth forecasting to enable the year-round and planned production of vegetables and other crops. The term "factory" is used because this agricultural production model is not affected by weather and has characteristics of regular, quality-assured, and quantity-controlled crop production, similar to mass production in the industrial sector.
The greatest appeal of plant factories lies in the safety of crops. Through hydroponic cultivation indoors, there are no pest problems, and there is no need for pesticide spraying or concerns about heavy metal contamination. Consumers can directly consume the produce without washing. You can find products labeled "ready-to-eat," "safe and secure," and "long-lasting" at department stores, high-end supermarkets, and upscale restaurants. The indicators of "safe and secure" are low pesticide residue, no heavy metals, low microbial counts, and low nitrate levels. Such products are highly sought after and provide consumers with peace of mind in the global market.
Air circulation, direction, size, and temperature throughout the entire plant factory are crucial for promoting healthy and robust plant growth. Therefore, selecting the appropriate fans is essential. Fulltech Electric Co., Ltd recommends using fans that have passed safety certifications from third-party organizations in Europe and America, such as UL in the United States, TÜV in Germany, and CE in the European Union. This ensures that the fans meet the required standards for quality, lifespan, efficiency, and low noise. Electricity consumption is the largest expense for plant factories each month, so selecting EC fans, which are more than 30% more energy-efficient than AC fans, is the best choice for cost reduction.
In the application of plant factories and cooling fans, ESG issues and EC energy-saving fans have become important considerations. Plant factories enhance sustainability through advanced environmental control technologies and comply with ESG standards encompassing environmental, social, and corporate governance criteria. This is of significant importance for modern agricultural development and market competitiveness. Simultaneously, selecting energy-efficient fans is one of the effective ways for plant factories to reduce energy consumption and costs. EC fans outperform AC fans in terms of energy-saving benefits, aligning with modern enterprises' pursuit of green and eco-friendly practices!
The following are the EC energy-saving fans actually used in the Fulltech cooperation case!
All major enterprises are welcome, whether it is an existing product replacement specification or a new development project, if you are interested, please contact us for further negotiation!
---